About Us
You are here:
About Us
About Nebula :
Promoted by Mr. Sukhdev G. Asnani, a mechanical engineer with vast experience in automobile Industry.
Nebula Automotive launched in 2008 to bring cutting edge ATV technology to India.
Nebula ATVs is a registered trade mark.
ATVs are fully assembled at the company's factory in Pune, India.
In India ATVs are not street legal. However the appetite has to be created in the market and fed accordingly.
Nebula Automotive also undertakes consultancy for ATV track and also commissioning of the same.
Company has a vision to fully indigenize its products once a critical mass is achieved to "Make In India" thereby generate employment.
Now also manufacturing Tractors and Golf Cars.
Also into electric buses and cargo vehicles.
Nebula Flagship Showroom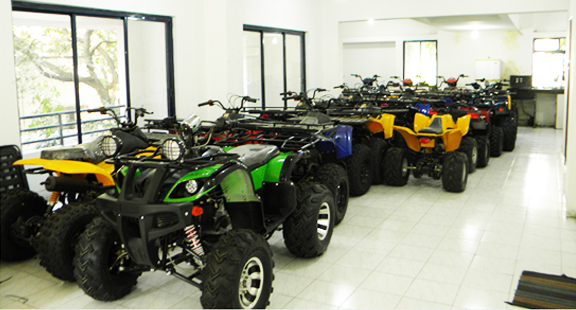 Origin :
Nebula Automotive Pvt. Ltd. is promoted by Mr. S.G. Asnani who is a Mechanical Engineer and has vast experience in the automobile field. He has been a dealer of a large motorcycle company and a multinational commercial vehicle company. Internationally, he has been an independent distributor of scooters and motorcycles bringing a diverse set of brands and products to Africa. He therefore understands the intricacies of the automobile markets in India and internationally.
Mission and Vision :
It has been his vision to bring unique products to India which provide fun and pleasure to all age groups. In each one of us there is a child who would like to have fun. The slightly older generation was not fortunate enough to have these products during their younger days. But now these ATVs ( All Terrain Vehicles ) are being made available in India. The younger generation should not miss out on what is available in the rest of the world. With this objective in view, the company has brought world class ATVs ( All Terrain Vehicles ) to India under its brand name Nebula over the last three years.
It is with the support and goodwill of the customers that the company has grown from strength to strength and Nebula has become a popular brand name for ATVs in India and is the market leader in that segment.
The company has also launched environment friendly, non-polluting Golf Vehicles and the Golf Cruiser single seater for the fun loving golfer.
The company has a wide range of environment friendly, non-polluting Golf and Electric Vehicles ranging from single seater to 23 seater and cargo vehicles. The company is also manufacturing Agricultural Tractors
Nebula Automotive has its own showrooms in Pune and Navi Mumbai. The products are assembled at its state of the art assembly facility in Wanawadi Industrial Estate, Pune.
We are always trying to innovate and bring new products to the Indian market. In case you have a new business idea or a specific requirement, please feel free to contact us. We shall be glad to have your input and deal with your requirements in a professional and confidential manner.
Nebula Factory
Future Ahead :
Tractor market size 5, 82, 844 ( 2016 - 17 Indian Express May 18th ) growing at an average 4%.
As per ICRA FY 17 tractor market to grow by 9% to 10%.
Global Market size of ATV's to reach US$ 9.2 Bln by 2024.
ATV's have various use from lifestyle vehicle to military, rescue and utility.
Electric vehicles for individual and mass transport is the future of the global "GO GREEN" philosophy
Company plans to add more products to its portfolio for which existing distributors/dealers shall be given preference.